Meet Our Team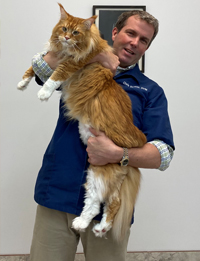 Dr. Chris DeWitt
Dr. Chris DeWitt graduated from Oklahoma State University College of Veterinary Medicine after first obtaining a BS in Biology. During school, he worked with the Zoo department and the Budweiser Clydesdales at Busch Gardens in Williamsburg. Dr. Chris's father was an Army Artillery officer, and his mom graduated from Newport News High School, and they are now retired in Seaford. He enjoys any type of surgery or dental procedure, as well as working with birds, reptiles and pocket pets. In addition to keeping up with his two daughters and numerous pets, Dr. Chris keeps busy with gardening, Volkswagen repair and home restoration.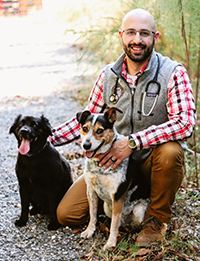 Dr. Vince Tavella
Dr. Tavella attended Delaware Valley University where he obtained a BS degree in small and large animal science. He went on to receive both his DVM and MPH from the Virginia Maryland College of Veterinary Medicine at Virginia Tech (Go Hokies!) in 2019. His special interests include population health, preventative medicine, elective soft tissue and dental surgery, and evidence-based medicine. Dr. Tavella is also passionate about international veterinary medicine and agriculture and participates in veterinary missions' trips to help developing nations.

Dr. Tavella and his wife are always on the go with their two sons, Elias and Miles, and two rescue dogs, Mammo and Khal. In their free time they enjoy spending time with family, friends and their church community, traveling, spending time outdoors, and occasionally taking a day off.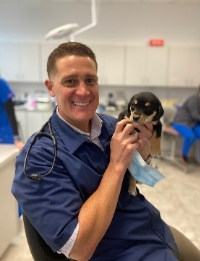 Dr. Giniaro Ortiz
Dr. Giniaro Ortiz was born and raised in a small town in Puerto Rico. Growing up with a definitive parallel passion for animals and sports, he attended Veterinary School in St. Kitts (Caribbean) and Virginia Tech as well as a continuous involvement in competitive cycling. After he graduated from Veterinary School, he gained an immediate interest in pursuing small animal medicine with a keen desire to improve the pet-family bond through medicine. He has been practicing as a veterinarian for over 12 years and feels that every day is a new day when it comes to the challenges that we face with a single goal of providing cure and comfort for our furry four-legged family members. He enjoys many areas of veterinary medicine such as diagnostics, nutrition, cardiology, dermatology, behavior among others. One of the most rewarding aspects of gaining experience is to be able to pass on the knowledge to the younger upcoming generation of technicians, veterinarians and other clinic staff to better our profession and team as a whole. During his free time he is always looking forward to spending time with his wife, daughter, his "Rottie" and other family as well as traveling. He still trains for bike races and participates in gatherings with the local cycling clubs for group rides around Williamsburg and nearby cities.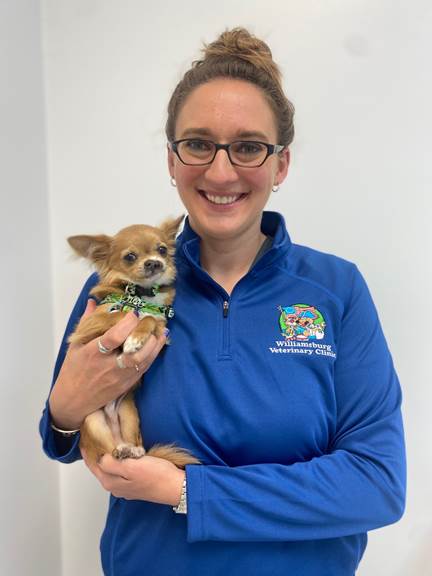 Rebecca
Licensed Veterinary Technician and Hospital Manager
Rebecca grew up in Lynchburg, Virginia and moved to the Hampton Roads area in 2004. She holds a Bachelor's of Science degree in Biology from Christopher Newport University and obtained her Associate's Degree in Veterinary Technology from Northern Virginia Community College. Rebecca has worked in the animal industry since 1999 and became a Licensed Veterinary Technician in 2012. She grew up loving animals and can't imagine working in any other field. Rebecca enjoys spending time with her husband, Matt, daughters, Lily and Daisy, her cat, Smitty, and Chihuahua named Peanut. She loves taking her family to Busch Gardens, Water Country, and Colonial Williamsburg.
Catherine
Lead Veterinary Assistant
Catherine was raised in Williamsburg Virginia. Ever since she was a little girl, she always had a love for animals. This passion for caring for animals lead her to work at the local animal shelter and begin studying for her Associate's Degree in Veterinary Technology. Some of her favorite activities are riding horses, drawing, and caring for her rescue pets.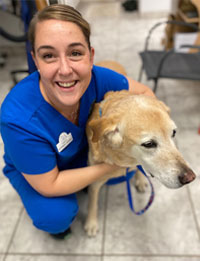 Tanya
Lead Client Service Representative
Born and raised in the Philadelphia suburbs, Tanya never expected to end up working with animals. She received her degree in Art History from Temple University and it wasn't until she moved to Williamsburg, Virginia in 2016 that she found her true calling. Working with animals and their families is an unexpected adventure that keeps her going. When not at work, she spends time with her husband, senior yellow lab, and two orange cats. Tanya is always up for exploring new things around Williamsburg, loves visiting breweries, and spending time with her nephews.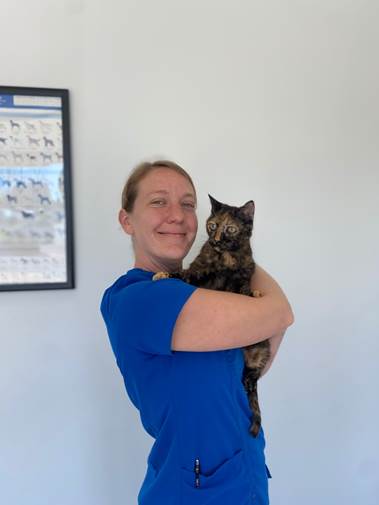 Jessica
Veterinary Assistant
Jessica grew up in Williamsburg. She's also spent time in Northern California and Norfolk, VA. Since 2008, she has worked in animal shelters and veterinary hospitals. Jessica enjoys exploring the outdoors and new music. She shares her home with her husband and two small dogs. She hopes to have a fleet of Shih Tzus one day! Frances
Veterinary Assistant
Frances was born in California and moved to Gloucester, VA, with her family in 2004. Although she grew up riding and caring for horses and her two dogs, she never expected to end up in the veterinary medical field. She attended the University of Virginia, where she earned a Bachelor's of Science degree in Chemistry in 2021. Following graduation, she started working part-time at an animal shelter and found it to be more rewarding and fulfilling than her full-time job as a chemist. She started working at WVC in August 2022 to gain more clinical experience in the industry under the guidance of invaluable mentors, which has inspired her to apply to veterinary school. She also works part-time at the Animal Emergency Center in Yorktown, Va. In her spare time, Frances enjoys exploring new hiking trails in the Hampton Roads area, attending any live music event, reading, and cuddling with her adorable tuxedo cat, Mayson. Emma
Veterinary Assistant
Bio coming soon!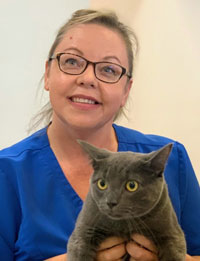 Lisa
Receptionist
Lisa was born and raised in Williamsburg, Virginia. After graduating high school, she worked in the administrative field. Her favorite job was being a receptionist for Agape Animal Care in the late 80's to early 90's. Lisa became a stay at home/homeschooling mom to her two daughters. Their well-being, as well as education, took precedence for the next 20+ years. Lisa is thrilled to be back in the working world and especially to be working with animals again. In her free time, she enjoys being on the water, spending time with family and friends, and being constantly entertained by her cat, Moose.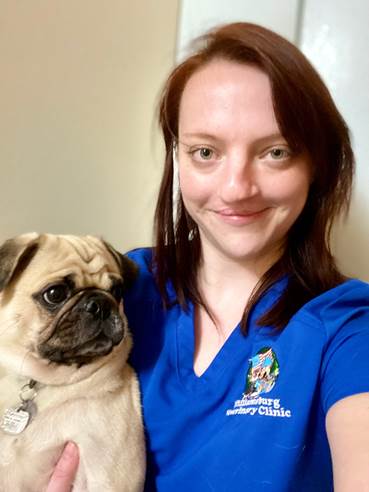 Bri
Receptionist
Bri grew up in Virginia Beach and attended Frostburg State University in Maryland and obtained a degree in Fine Arts. She's worked in the animal industry for over 15 years. She has a love for smushed faced dogs and shares her home with a Pug named Louie. In her spare time, Bri enjoys spending time outdoors hiking, painting and drawing. Chelsea
Receptionist
Bio coming soon!